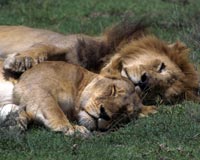 Help ban private ownership of exotic animals in Ohio!
In October 2011, Terry Thompson intentionally released over 50 exotic animals from his ?farm? and then took his own life. Sheriff?s deputies tracked down and shot the animals to protect the public. At the conclusion of the massacre, the pile of carcasses included: 18 tigers, 17 African lions, six black bears, one baboon, two grizzly bears, three mountain lions, and two wolves. Thompson had previous convictions for cruelty to animals and possession of illegal firearms.
This tragedy highlights the need for a state law to ban ownership of exotic or dangerous animals. Currently anyone may keep exotic animals in Ohio, one of only eight states that have no law regulating the possession of exotic animals.
A bill introduced in the state legislature, SB 310/ HB 483, would ban the acquisition, sale, and breeding of restricted species. People who already possess restricted species would be required to register their animals with the state within 60 days of the passage of the bill and then to obtain a permit by January 1, 2014. After that time, local humane societies would be able to seize animals if the owner does not have a permit. (Exempt facilities will include zoos and aquariums, research facilities, circuses, wildlife rehabilitation facilities, and a veterinarian that is providing temporary veterinary care.) If passed, the new law would:
Prohibit new possession of dangerous wild animals
Prohibit all sales and transfers of dangerous wild animals
Authorize officials to inspect dangerous wild animals already in someone?s possession
Keeping wild and exotic animals as pets threatens public health and safety as well as animal welfare. Wild animals can attack, they can spread disease, and the average citizen cannot provide proper care for a wild animal. Taxpayers and local officials bear a high financial burden when dangerous animals escape or when they are seized due to cruelty and neglect. As the tragedy in Zanesville so starkly illustrates, while the unregulated trade in exotic animals puts people at risk, it is the animals who most often pay the highest price.

Take Action!
Please contact your state representative and members of the House Agriculture and Natural Resources committee today to urge them to support HB 483 to ban possession of dangerous wild animals. The Ohio Senate passed SB 310 but the House companion bill, HB 483, is stalled in the Agriculture and Natural Resources Committee. The bill is opposed by exotic animal owners who are trying to kill the bill in the House. Governor Kasich has indicated his intent to sign the bill if it comes to his desk.

VN:F [1.9.17_1161]
Rating: 0.0/10 (0 votes cast)
Article source: ALDF
Related posts:
Animal Advocates Gather at Ohio Capitol to Lobby for Animal Welfare Legislation
Open Season on Feral Animals in Utah
Ohio Voters Favor Federal Bill on Egg-Laying Hens by More than Three-to-One Margin
Speak Out for Tortoises Cruelly Confined at Ohio Petland
Death & Agony: Wild Horse Roundup
walking dead comic kratom broncos broncos lehigh walking dead season finale matt flynn